Stagnation of share of renewables in transport in post-2020 period
Since early 2000s biofuels in transport have been supported by policy. For two reasons. One is the contribution they make to carbon reduction and the other for their capacity to reducing the fossil oil dependency of the transport sector. Biofuels are blended in transport fuel. First, the Biofuels Directive (2003/30/EC) targeted a 5.75% share by 2010. Then, the Renewable Energy Directive (RED – 2009/28/EC) set a target for 2020: 10% of energy in road transport should be of renewable origin. The RED also introduced sustainability requirements with minimum GHG-savings. In 2015 the RED was amended to incorporate issues on ILUC (Indirect Land Use Change) and capping the contribution of crop-based biofuels to 7%, shifting the focus to advanced biofuels (Directive 2015/1513/EU).
The proposal for RED II extends its focus to advanced biofuels and renewable fuels (renewable electricity directly or converted to liquid or gaseous fuels) and sees them grow to 6,8%. And it will be this 6,8% share that economic operators will be obligated to fulfill.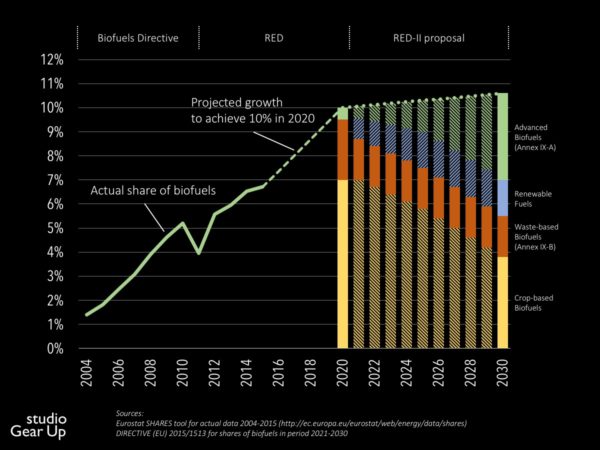 Continue reading RED-2 of European Commission should limit fossil, not renewable fuels →