ReFuelEU Aviation has set first mandates for the blending of Sustainable Aviation Fuels (SAF, and eSAF when produced from renewable electricity). Some production plants are already in operation and many more have been announced. From 2030 onwards production volumes, in particular for eSAF, need to ramp up following the set mandates. In 2035 the SAF-mandates in Europe make a bold jump upward (20% share compared to 6% share in 2034) and SAF producers will need to build up at least two times more production capacity, compared to what currently is in the construction pipeline. Rapid scaling up of eSAF facilities is needed to prevent falling short to the mandates in 2030, especially as currently all announced eSAF facilities are located in Europe. Import of eSAF to comply to the 2030 mandate seems not to provide a lot of volumes given the small numbers of planned eSAF facilities outside Europe.
Tracking SAF facilities
studio Gear Up keeps track of new announcements for global SAF production facilities. In Europe, the commercial scale HEFA-based SAF facilities outnumber other pathways to produce SAF such as facilities for Alcohol to Jet (AtJ), Fischer-Tropsch SAF plants and the Power-to-liquid (eSAF) plants. The total HEFA production of these plants, once all are operational, which is expected by 2027, would sum up to 2,4 million tonnes SAF per year. Today, 2 plants in the Netherlands and Denmark, are each expected to produce 50 to 60 thousand tonnes eSAF per year. The other announced eSAF-plants have, compared to the other facilities, moderate production capacity.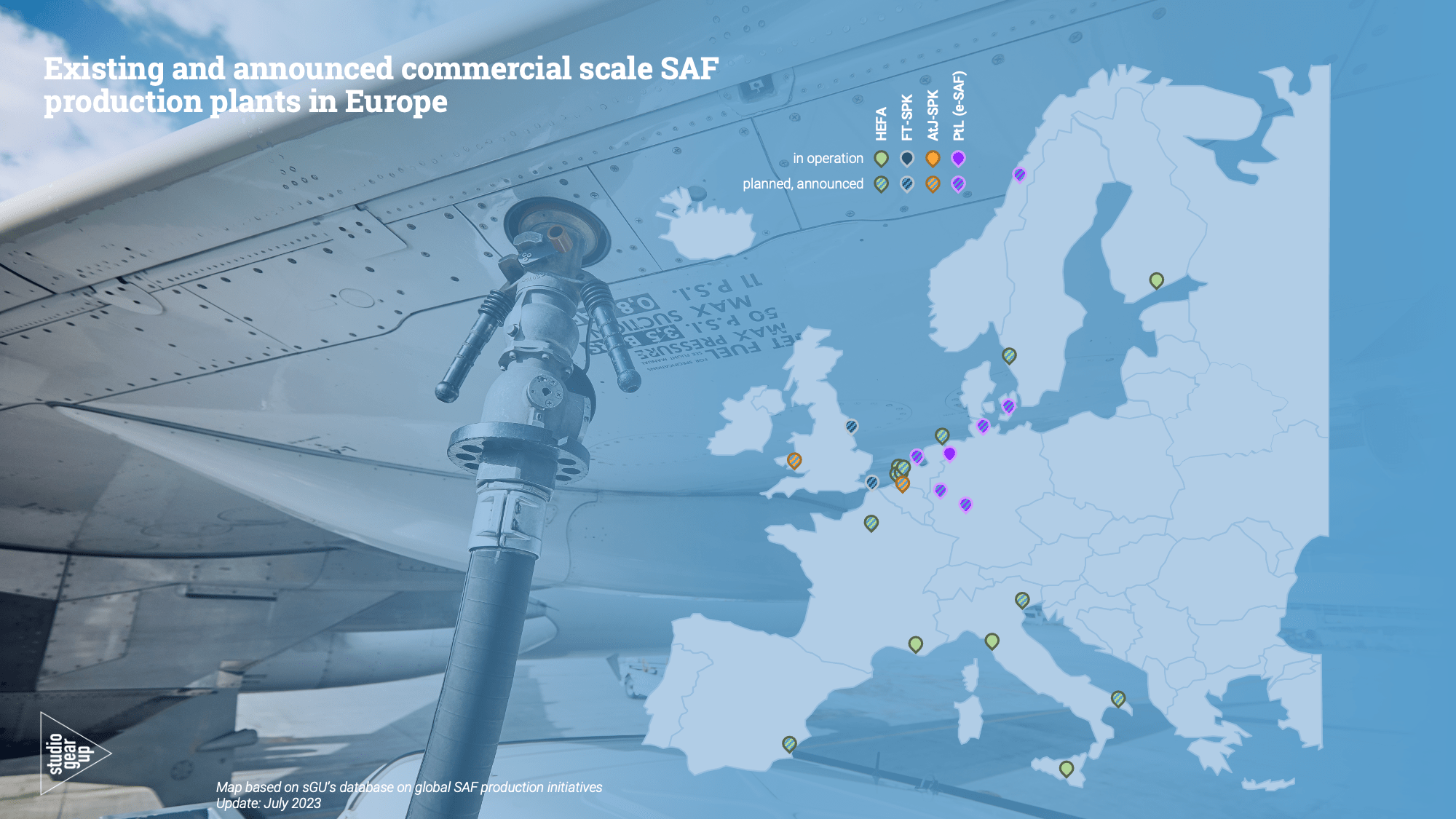 How does the announced production capacity in Europe relate to the mandates for EU27 under ReFuelEU Aviation?
From 2025 a mandate of 2% SAF is compulsory for fuel suppliers to provide to aircrafts in EU Member States. This will grow to 6% in 2030 and 20% in 2035. For the situation in 2035 and beyond, the production capacity has to be scaled up significantly – a factor three at least. If these volumes will not be produced in European facilities import of SAF would be needed.

May 2023, a preliminary agreement has been reached in Brussels on ReFuelEU Aviation. The final publication is to be expected soon. Compared to the original proposal by the European Commission, some adjustment have been made for the level of the mandates in the time frame towards 2050 (see the bold numbers in the table).
In our analysis we have taken the aviation fuel volume bunkered in EU27 in 2019 as a basis for the calculations. It is assumed that for the period 2025 to 2035 the aviation fuel volumes are equivalent to the 2019 volumes. The existing and planned/or announced total SAF production in Europe would supply sufficient volumes to comply with REFuelEU Aviation mandates for EU27 up to 2034 (the mandate is represented by the dark green area behind the yearly bars). This is under the conditions that all announced plants start operation according to their announcements, or that the total aviation fuel volume bunkered in the EU does not increase substantially above its 2019 volumes. As a result it seems that Europe could be self-sufficient in the production of SAF to comply to the SAF mandates.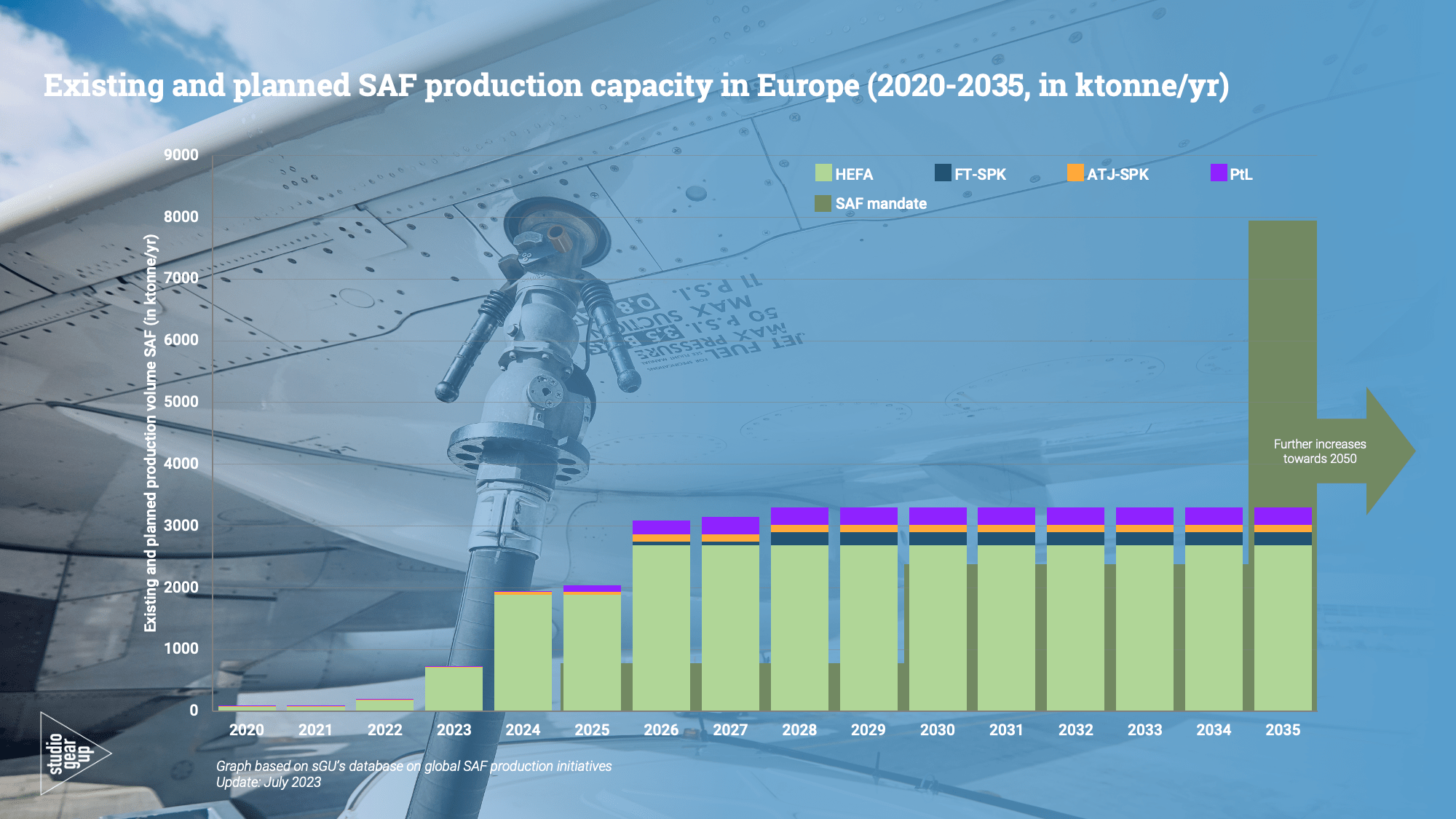 From 2030 onwards, a sub mandate for e-SAF is introduced within the overall SAF mandate. The capacity of existing and mainly planned production facilities in Europe for e-SAF is not enough to comply with the sub mandate for eSAF. As a result, in that case also compliance of the overall SAF mandate will fall short. So, while the eSAF mandate only represents one fifth of the total SAF mandate from 2030 onwards, the current plans only produce 38% of the volume needed to comply to the eSAF sub mandate, and from 2032 onwards only 23%.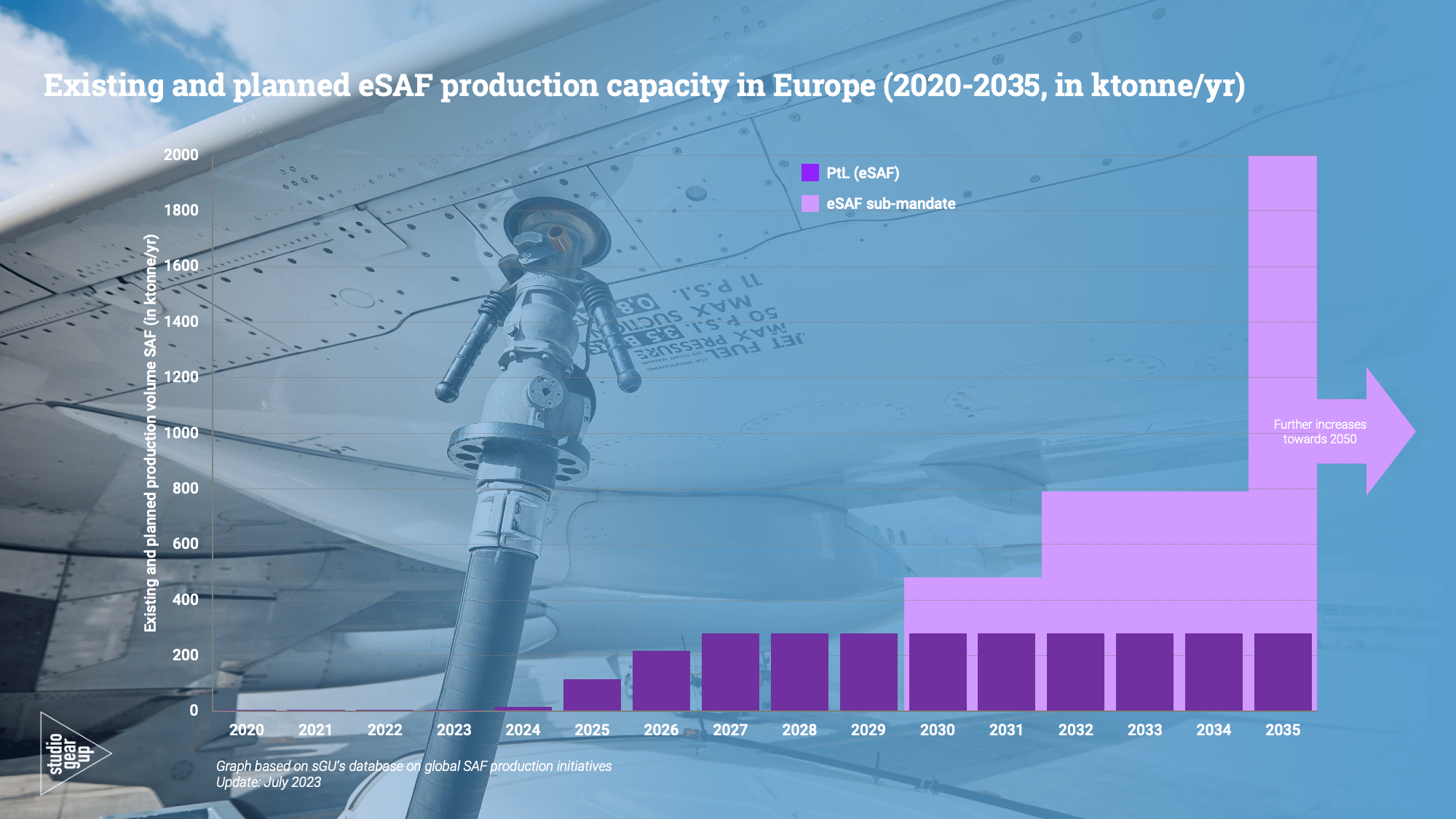 Conclusions
One of the main conclusions from this brief analysis is that the production capacity of eSAF needs to increase to ensure compliance with the sub mandates in 2030, and even more as of 2032. If European capacity remains at the level of current announced plans, import will be inevitable. However, following information in our database most announced eSAF facilities are located in Europe, meaning that import from outside Europe at this moment would not be much of an option.
Furthermore, it is important to note that the total production volume of biobased SAF from existing and planned facilities worldwide is currently estimated at just more than double to the production volume of European existing and announced facilities. Given that governments in other regions also are scaling up their instruments to force SAF-uptake in aviation fuels in their own region, it can be expected that import of SAF may not be a strategic wise choice for fuel suppliers in Europe.
Another conclusion from the analysis is that for the fulfillment of the mandates as of 2035 not only the production volume for eSAF needs to be scaled up significantly, but also the production volumes of biobased SAF (be it HEFA, AtJ, Ft-SPK or other pathways – the numbers of pathway approved by ASTM are increasing). The volumes to comply with the overall SAF mandate for 2035 are more than three times that of current plans. Will the aviation sector still grow in the coming decade, the ramp up of SAF production obviously will need to be stronger.
---
Background information on ReFuelEU Aviation
May 2023, the European Council, Commission and Parliament reached a preliminary agreement on making the aviation sector in Europe more sustainable. This agreement, called ReFuelEU Aviation, describes how the aviation sector will have to reduce its emissions in the coming years using renewable fuels.
Downloads
For download of the PDF-version of this blog, click here.