For: Dutch Ministry of Infrastructure and Environment/Netherlands Enterprise Agency
[May – Nov 2015]
For the Dutch Ministry of Infrastructure and the Environment studio Gear Up is operating as a 'quartermaster' to initiate concrete actions on biofuels in heavy duty road transport.  These actions should help reaching a sustainable fuel mix that brings down carbon emissions in the Dutch transport sector.
One of the agreements in 'The Energy Agreement (September 2013)' Dutch parties have agreed on was focused on significantly (-60%) reducing the  CO2 emissions in the mobility and transport sector.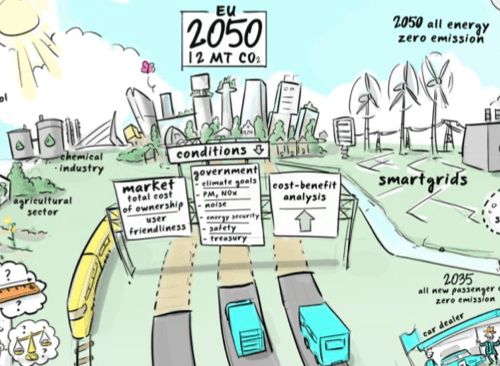 studio Gear Up will investigate which companies and organizations are willing to undertake actions and projects, what currently keeps them from making next steps and whether other parties would be needed to join a project. The objective of the work of studio Gear Up is to establish signed agreements, e.g. a Green Deal, with the project participants, in which concrete project actions and intentions are played down.
About the vision and the action agenda for a Sustainable Fuel Mix
Following the Vision on a Sustainable Fuel Mix, formulated in 2014, an action agenda has been developed (2015). The plan sets out the steps necessary to realize the vision and the CO2 reduction provisions and must lead to further commitment by the stakeholders to meet the goals.
"In this respect, sustainable biofuels are seen as a transitional option to electric motors and a long-term solution for heavy transport and in any case supported by continual efforts to improve efficiency.
For the shipping sector, the Netherlands is committed to implementing efficiency measures in combination with a transition to LNG and use of sustainable biofuels for short-sea and inland shipping.
The aviation sector will see continued development and application of sustainable biokerosine sourcing, production and distribution.
For the rail sector, the Netherlands is dedicated to expanding the use of sustainable electricity, as well as replacing diesel trains with LNG- and bio-LNG-powered trains (depending on the technical and economic feasibility)." [Vision document, June 2014]